Next on Devious Maids... "Much Ado About Buffing"!
If you hope for the series to be renewed, you need to watch LIVE
and show your support by using #DeviousMaidsSeason5 on Twitter!
Coming Soon




"Much Ado About Buffing"

Marisol learns a secret from Genevieve's past that may provide a clue to finding Peri's killer. Zoila struggles to balance her love life and her demanding new boss, while also helping Rosie investigate The Circle. Danni appears to be warming up to Carmen, but her motives aren't so pure. Spence helps Rosie when Miguel begins to act out at school.


Read more...




Featured Character




Odessa Burakov

Odessa Burakov is one of the supporting characters on Devious Maids. Alejandro's militant house manager, oversees all of the employees who work on the grounds. Originally hailing from Russia, her organizational style is more akin to that of a gulag than a Beverly Hills mansion. Fiercely loyal to Alejandro, she is suspicious of Carmen's motives, and believes them to be less than altruistic. But despite their antagonism towards one another, Odessa and Carmen have much more in common than they think.

Read more...

About Devious Maids




Devious Maids is a show about Beverly Hills maids who have to juggle their own ambitions and dreams with the demands of their rich employers. Marisol finds herself acting as a support system to Evelyn in the wake of a big life change. Meanwhile, Rosie's positive and sunny disposition leaves much to be desired by her new boss, Genevieve who is acclimating to a household without Zoila's honest and acerbic humor. Carmen continues to pursue her singing career until her cousin Daniela comes to town and shakes things up. Marisol also finds herself in a new relationship, which eventually becomes a complicated triangle when her old flame Jesse reappears.



News




Loading RSS data...

Refresh
Featured Video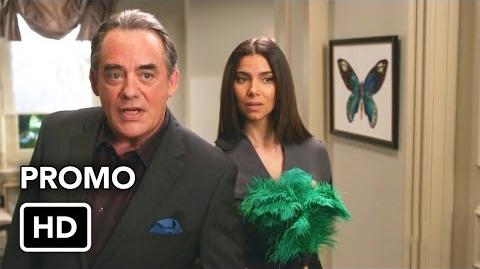 "Much Ado About Buffing" Promo!
Devious Quotes

Adrian and I hired you to scrub our toilets, and now you're with a man worth twice what we are. Why would that be awkward?

Evelyn Powell, "Dangerous Liaisons"
Refresh for another quote
Featured Episode

"Minding the Baby"
Genevieve lies to her new boyfriend about her age, much to Zoila's dismay. Rosie begins working at the Powells. Carmen learns Odessa is hiding something. Marisol goes with Taylor to a fertility clinic.

Read more...
Did You Know..?

On September 24, 2015, Devious Maids has been renewed for a fourth season.
Devious Maids count the Desperate Housewives creator as an executive producer, along with Sabrina Wind (Desperate Housewives), Eva Longoria (Desperate Housewives), Paul McGuigan (Scandal), Larry Shuman (Kissing Miranda), David Lonner, John Mass, Paul Presburger and Michael Garcia.
Polls

What did you think of "I Saw the Shine"?

 

IN THE LAST POLL we asked:
What did you think of "Blood, Sweat and Smears"?
8 people (100%) said "Amazing".

Which Season 4 episode is the best so far?

 

IN THE LAST POLL we asked:
Who do you think killed Peri?
17 people (32.08%) said "Someone else...".

Affiliations