Next on Devious Maids... "Once More Unto the Bleach"!
Coming Soon




"Once More Unto the Bleach"

Lives are changed forever following the explosion at the Powell mansion.


Read more...




Featured Character




Sebastien Dussault

Sebastien Dussault is one of the main characters of Devious Maids. He is a Beverly Hills realtor, but also a married man locked in a ironclad pre-nup by his wife Jacklyn. Sebastien meets Carmen at a bar and, after he shows her demo to his wife, the two of them sleep together. They begin a secret relationship. Unbeknownst to everyone, however, Sebastien guards some dark secrets. Desperate for money, he allowed Olivia Rice to bribe him into an affair with Taylor Stappord, and this led to more than a few murders committed by the promiscuous Frenchman. When the truth comes out, he takes a group of people hostage and attempts to blow them up, but they ultimately escape and he ends up the victim of his own scheme.

Read more...

About Devious Maids




Devious Maids is a show about Beverly Hills maids who have to juggle their own ambitions and dreams with the demands of their rich employers. Marisol finds herself acting as a support system to Evelyn in the wake of a big life change. Meanwhile, Rosie's positive and sunny disposition leaves much to be desired by her new boss, Genevieve who is acclimating to a household without Zoila's honest and acerbic humor. Carmen continues to pursue her singing career until her cousin Daniela comes to town and shakes things up. Marisol also finds herself in a new relationship, which eventually becomes a complicated triangle when her old flame Jesse reappears.



News




Loading RSS data...

Refresh
Featured Video

Season 4 Promo!
Devious Quotes

They're really not our friends. They're only nice to us because I'm a successful lawyer and you're my glamorous wife. Once they find out the truth, that is all going to change.

Michael Stappord, "Wiping Away the Past"
Refresh for another quote
Featured Episode

"The Awful Truth"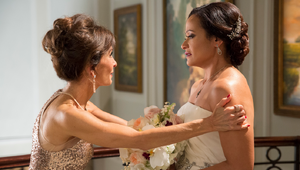 As Zoila and Javier prepare to get married, Genevieve insists that Zoila listen to her advice. Spence goes behind Rosie's back to try to protect her. Marisol debates making a new hire for one of her pickiest clients. Carmen begins a new job. Blanca starts to suspect Taylor is hiding a lot more than she thought.

Read more...
Did You Know..?

On September 24, 2015, Devious Maids has been renewed for a fourth season.
Devious Maids count the Desperate Housewives creator as an executive producer, along with Sabrina Wind (Desperate Housewives), Eva Longoria (Desperate Housewives), Paul McGuigan (Scandal), Larry Shuman (Kissing Miranda), David Lonner, John Mass, Paul Presburger and Michael Garcia.
Polls

Which new character seems the most interesting?

 

IN THE LAST POLL we asked:
Which upcoming storyline are you most interested in?
41 people (45.05%) said "Adrian's fate and Evelyn's reaction to it".

Which dead character could reappear?

 

IN THE LAST POLL we asked:
Which character should come back in Season 4?
73 people (66.36%) said "Valentina Diaz".
Affiliations