Home
Talk

0
211pages on
this wiki

Next on Devious Maids... "The Dark at the Top of the Stairs"!
Coming Soon




The Dark at the Top of the Stairs




When Carmen feels threatened by an old flame from Alejandro's past, she goes to great lengths to make sure her career isn't in jeopardy. Zoila intervenes with Valentina's job, while ignoring the problems arising at home with her husband, Pablo. Rosie starts a new job working for Kenneth Miller, a post-stroke patriarch, and his dysfunctional family. Marisol tries to make peace with Opal. Peri threatens Spence into staying in their marriage. As Adrian copes with the home invasion, he fails to protect Evelyn in a dangerous situation.


Read more...




Featured Character




Rosie Falta




Rosie Falta is one of the main characters and titular protagonists of Devious Maids. A Beverly Hills maid from Guadalajara, Rosie works for the Westmore family in order to save up money so her son, Miguel, can move to America. As time goes by, Rosie finds herself falling in love with her boss, and ultimately entering an affair. However, once Peri finds out, things don't go the way they should...

Read more...

News




Loading RSS data...

Refresh

DM Quotes




For God's sake Taylor, poor people like to be pretty too!

Evelyn Powell

Refresh for another quote




Affiliations







Poll

What did you think about "An Ideal Husband"?
IN THE LAST POLL we asked:
Which new character seems to be the best one?
7 people (58.33%) said "Opal".
Next Episode

About DM

Devious Maids is a show about Beverly Hills maids who have to juggle their own ambitions and dreams with the demands of their rich employers. The murder of Flora, one of the community's maids, brings her friends together -- but lingering questions about who's responsible may complicate everyone's lives. What do Flora's employers, Adrian Powell and his wife Evelyn, know about what happened?
Did You Know..?

Maids will count the Desperate Housewives creator as an executive producer, along with Sabrina Wind (Desperate Housewives), Eva Longoria (Desperate Housewives), Paul McGuigan (Scandal), Larry Shuman (Kissing Miranda), David Lonner, John Mass, Paul Presburger and Michael Garcia.
On July 31, 2013, Devious Maids has been renewed for a second season.
The four central women contain two familiar faces, one being Ana Ortiz, Hilda Suarez from Ugly Betty, and Judy Reyes, Carla Espinosa from Scrubs.


Featured Episode

Totally Clean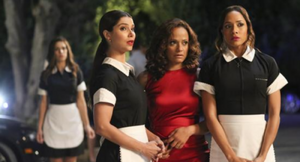 A lavish black tie event is once again marred by lust, jealousy and revenge. As the mystery surrounding Flora's death reaches its boiling point, the maids orchestrate a plan to ensnare the murderer. But no one is what they seem. And no one is safe.

Read more...