Devious Maids has been canceled by Lifetime. No Season 5.
However, you can check out the site for Marc Cherry's next new series, Red Blooded!
Latest Episode




"Grime and Punishment"

Zoila discovers a huge secret that finally helps Rosie get to the truth about Peri's murder. Carmen and Danni find themselves in a dangerous situation. Genevieve makes a new friend and Marisol attempts to get closure with Peter. Adrian has big news to share, bringing Evelyn one step closer to finalizing the divorce she's always wanted.


Read more...




Featured Character




Peri Westmore

Peri Westmore is one of the main characters of Devious Maids. A wretched woman who cares about no one but herself, Peri got to where she did in life on the back of a great tragedy. Having everything wasn't enough for her though, which is exactly what drove her husband into the arms of their maid. Hurt and humiliated by this, Peri spent years exacting revenge in more ways than one, from destroying his public image to preventing him from seeing their son, even going as far as to try brainwashing him. Despite countless devious acts against her husband, and others, her overdue demise was actually delivered at the helm of her wanting to do something good, and protect girls who have suffered like she has.

Read more...

About Devious Maids




Devious Maids is a show about Beverly Hills maids who have to juggle their own ambitions and dreams with the demands of their rich employers. Marisol finds herself acting as a support system to Evelyn in the wake of a big life change. Meanwhile, Rosie's positive and sunny disposition leaves much to be desired by her new boss, Genevieve who is acclimating to a household without Zoila's honest and acerbic humor. Carmen continues to pursue her singing career until her cousin Daniela comes to town and shakes things up. Marisol also finds herself in a new relationship, which eventually becomes a complicated triangle when her old flame Jesse reappears.



News




Loading RSS data...

Refresh
Featured Video

"Grime and Punishment" Promo!
Devious Quotes

Remi and Valentina. Maybe it would be good if we got out of their way. It's their life. I think it would be good if we just... let them live it, mistakes and all.

Zoila Diaz, "Making Your Bed"
Refresh for another quote
Featured Episode

"Once More Unto the Bleach"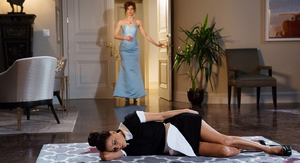 Lives are changed forever following the explosion at the Powell mansion.

Read more...
Did You Know..?

On September 24, 2015, Devious Maids has been renewed for a fourth season.
Many similarities have been spotted around Devious Maids and its predecessor, Desperate Housewives (e.g. It is a dramedy based around four central woman who struggle through tough times and mystery).
Polls

What did you think of "Grime and Punishment"?

 

IN THE LAST POLL we asked:
What did you think of "Much Ado About Buffing"?
10 people (83.33%) said "Amazing".

What unresolved story are you most excited to see continued?

 

IN THE LAST POLL we asked:
Which Season 4 episode is the best so far?
7 people (46.67%) said "A Time to Spill".

Affiliations

Ad blocker interference detected!
Wikia is a free-to-use site that makes money from advertising. We have a modified experience for viewers using ad blockers

Wikia is not accessible if you've made further modifications. Remove the custom ad blocker rule(s) and the page will load as expected.